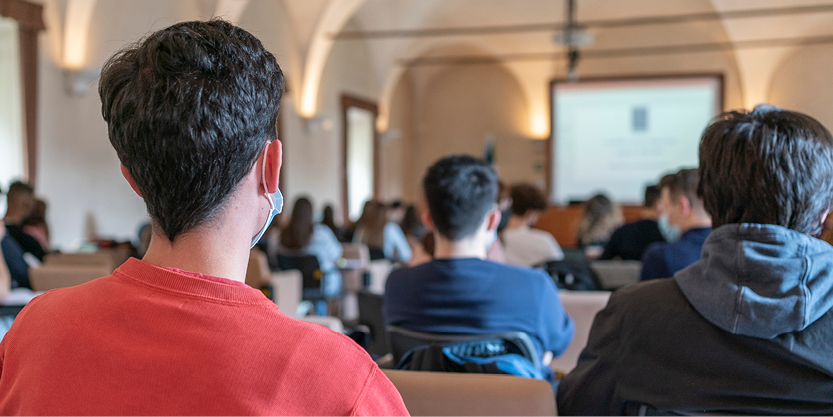 At the Academic Senate Session on 19 October, the University of Brescia unanimously resolved to supplement the Guidelines for the conduct of teaching activities.
From 25 October, lectures and examinations, which have been held in presence since the beginning of the Academic Year, will be held in teaching and study rooms at 100% capacity.
Should the number of seats available in a classroom be less than the total number of enrolled students, lectures can also be delivered remotely.
Remote teaching will also be made available to students in quarantine, vulnerable students at health risk or for those international students with a student visa who cannot travel from their home country because of health reasons.
The resumption of teaching activities at 100% classroom capacity is in accordance with  law decree n. 139 of 8 October 2021 which states that beginning on 11 October 2021 all places of culture resume at full capacity.
With a note issued by the General Director, the Ministry of University and Research has also invited Rectors and General Directors of Universities to implement all necessary initiatives in order to allow teaching and curricular activities to be carried out primarily in presence to guarantee students the return to 'normal' university life in compliance with all the safety measures.
This important step requires scrupulous attention to safety regulations, starting from hygiene up to the constant use of the face mask and the utmost caution in common areas.
According to the above information, the following guidelines must be respected:
students must reserve their seats using the available app (seat reservation with 100% classroom capacity will be possible starting from the evening of Friday 22 October);
once seated in the classroom, students' seat tracking must be guaranteed;
the green pass is required to access to the University facilities;
both students and professors are obliged to wear surgical masks in all University spaces;
it is forbidden to occupy the classrooms beyond the available number of seats;
all the requirements related to cleaning, sanitation and ventilation of the rooms must remain in force.
We are therefore all called upon to be extra vigilant in order to enable the step towards this new normality.