ENROLMENT at PhD PROGRAMMES 1 A.Y. 2023/2024
NOTICE !
The enrolment of candidates resulted eligible and assigned for a post in the final ranking of merit of UniBS PhD Programme in:
Civil and Environmental Engineering, International Cooperation and Mathematics
Precision Medicine
Rights, Person, Innovation and Market
Artificial Intelligence in Medicine and Innovation in Clinical Research and Methodology
Open
From September 19, 2023 at 13.00 H. (Italian Time)
Until September  29, 2023 at 13.00 H. (Italian Time)
Candidates who are Italian Speakers will proceed to enrol online through the system Esse3 and must comply to the procedures available on the Italian version of this page at https://www.unibs.it/it/node/470
Candidate WHO DO NOT SPEAK ITALIAN comply to the procedures and fill-in the forms available in this section
****
The TIMETABLE to enrol candidates resulted eligible and assigned for a post in the final rankings of merit of UniBS PhD Programmes in:
Biomedical Sciences and Translational Medicine
Molecular Genetics, Biotechnologies and Experimental Medicine
1 A.Y. 2023/2024 WILL BE AVAILABLE AS SOON AS THE EVALUATION OF CANDIDATURES WILL BE COMPLETE. Please Wait
PROCEDURES TO ENROL for CANDIDATES BEING NON-ITALIAN SPEAKERS 1 A.Y. 2023/2024
FORMS TO ENROL 1 A.Y. 2023/2024 - NON ITALIAN SPEAKERS ONLY
University Fees
The comprehensive University Fee to enrol to PhD Programmes (both for beneficiaries and non-beneficiaries of study grants) amount to € 156,00
out of which € 140,00 for the Regional Right to Education Fee (Regione Lombardia) + € 16.00 of the Italian Revenue Tax Stamp duty.
Useful procedures to live in Italy and Universitaly procedure to apply for study visa
STUDENTS' GUIDE AND OTHER USEFUL INFORMATION FOR FUTURE STUDENTS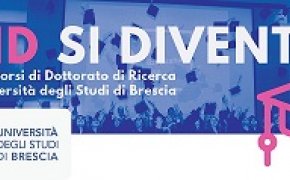 ENTRY REQUIREMENTS
The PhD Programme is a III level study programme open to holders of II level degrees (Master of Science degree or similar academic qualification awarded abroad and considered equivalent in terms of duration, level and field of study).
Upon conclusion of the educational and research prospectus, after passing the final exam, the title of Doctor of Philosophy (Ph.D.) is awarded.
Admission to PhD Programmes and procedure to enrol
Admission to PhD Programmes is subject to competitive application having no citizenship limitation.
The University of Brescia publishes an annual Call for applications to PhD Programmes, providing for each Programme the number of positions available benefitting of study grants, and those not benefitting of study grant.
The administrative procedures to enrol are published on this web page upon completion of the competitive selection process.