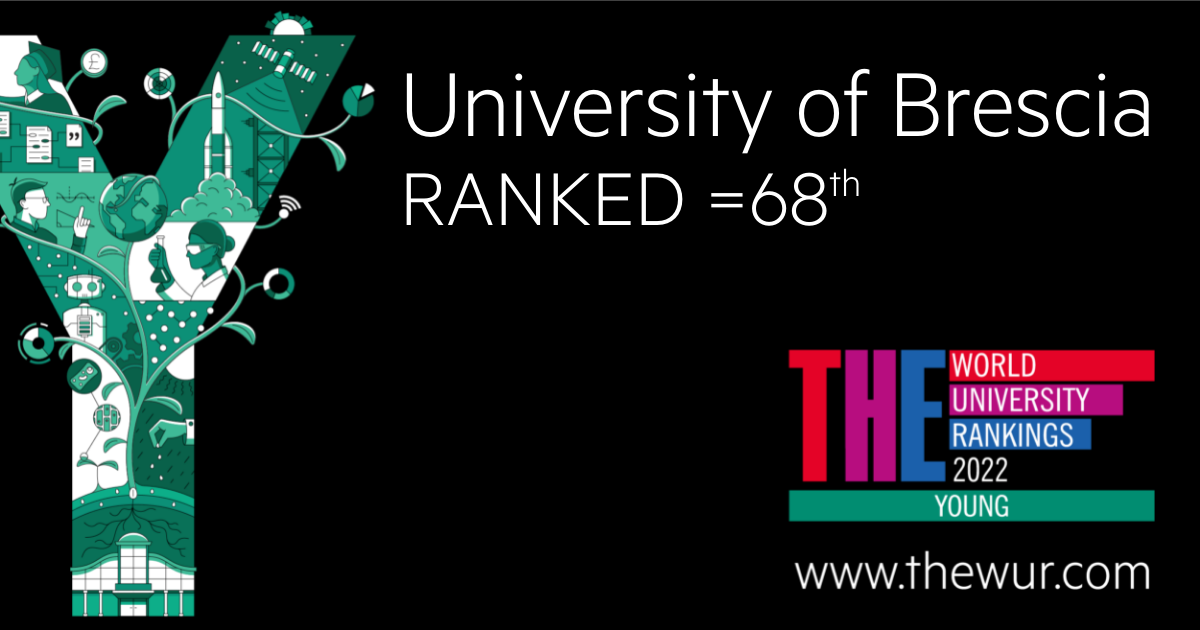 A new important international milestone for the University of Brescia. British independent magazine Times Higher Education (THE) has released the prestigious international Young University Rankings 2022, which assesses universities founded less than 50 years ago on their teaching, research, knowledge transfer and international outlook. The University of Brescia, which has just turned 40, moves up to 68th out of a total of 790 universities, climbing the ranking by 28 places compared to 2021. Out of the 17 Italian universities assessed in the ranking, the University of Brescia places fifth.
"If it is true that international rankings are more suitable for the evaluation of educational institutions styled after the Anglo-Saxon model rather than that of most Italian universities - comments Professor Maurizio Tira, the Rector - climbing to 68th place, ranking among the top 100 young universities worldwide, is further confirmation of our strength in terms of teaching, research, knowledge transfer and international outlook, in a context of rapid growth of Asian universities. This is the best result yet for our University in the Times Higher Education Young University Rankings". 
"The Times Higher Education magazine bases its rankings largely on objective data related to the quality of research and teaching at all levels of university education, as well as on the ability to attract public and private funding", specifies Professor Roberto Ranzi, the Rector's Delegate for International Affairs and Development Cooperation in the rankings.
The THE Young University Rankings assesses universities according to 13 performance indicators grouped into five areas: teaching (the learning environment), research (volume, income, and reputation), citations (research influence), industry income (knowledge transfer) and international outlook (staff, students and research). The University of Brescia records an increase in all indicators, especially in the citations area (+13.8 points, 93.9 in 2022 vs 80.1 in 2021). The research area is also on the rise (+ 2.1 points, 26.9 in 2022 vs 24.8 in 2021) as well as teaching (+1.6 points, 32.7 in 2022 vs 31.1 in 2021), industry income (+1.2 points, 39.6 in 2022 and 38.4 in 2021) and international outlook, up by 0.5 points (44.7 in 2022 vs 44.2 in 2021).
In the 2022 edition of THE World University Rankings, our University was ranked for the first time in the range of 351-400 out of a total of 1662 universities, thus leaving behind the previous position of 501-600 in 2020 (out of a total of 1397 universities) and 401-500 in 2021 (out of a total of 1526 universities). The University of Brescia has been ranked  in the top ten Italian universities this year, out of a total of 51 institutions taken in consideration.