PhD Programmes in Italy
A PhD Programme is a 3rd Level study programme open to holders of a 2nd Level university degrees (Master of Science degree or similar academic qualification awarded in non-Italian universities and considered equivalent in terms of duration, level and field of study to the Italian "Laurea Magistrale"). Upon conclusion of the educational and research prospectus, after passing the final exam, students are awarded the Degree of Doctor of Philosophy (Ph.D.).
 
The PhD Programme: a brief highlight
A PhD Programme is a 3-year course (minimum period) which aims to provide the necessary skills to practice higher education research activities in public and private institutions, as well as the qualifications to practice as a self-employed professional, contributing to the creation of the European Higher Education Area and the European Research Area. Specific PhD Programmes may also be launched via agreements with other Italian or foreign universities, public or private institutions of adequate cultural and scientific qualification, or in agreement with public bodies or enterprises.
The study prospectus involves compulsory educational activities, which may be shared between multiple PhD Programmes, including basic and advanced disciplinary and interdisciplinary training, further language and IT training, specific training in research management and in approaching  european and international research systems, as well as in promotion of research results and intellectual property. Every PhD student, under the supervision and responsibility of a Tutor, also defines and develops a specific and personal research project that will culminate in the completion of a PhD thesis. It is also possible to undertake periods of study and research abroad, at public and private institutions.
Admission to PhD Programmes is subject to competitive application.
The University of Brescia publishes an annual Call for applications to PhD Programmes, providing for each Programme a number of positions available benefitting of a study grant and a number of positions not benefitting of study grants.
Calls for applications are generally published yearly, in early Summer.
For further information please contact the PhD Secretariat at [email protected]
Online Guide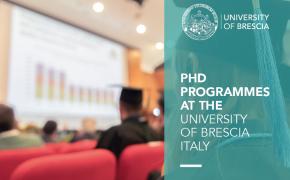 Competitive selection procedures for admission
The Call for Admission to no. 12 PhD Programmes for the A.Y. 2022/2023, XXXVIII cycle is now OPEN.
IMPORTANT NOTICE:
The deadline to apply has been postponed to August 19th, 2022 at 14.00 hours (Italian time) as per Rector's Decree dated August 01st, 2022, Index no. 683/2022.
Online registrations opened on July 7th, 2022 at 14.00 hours (Italian time)
The PhD Call for Admission is available at the link below: